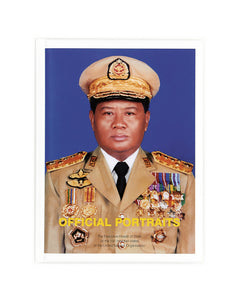 OFFICIAL PORTRAITS edited by Klaus Zwangsleitner/Berlin Press
Regular price $20.00 Sale
Authority, leadership, stability, benevolence, even grace: these are some of the qualities state leaders seek to portray in their official portraits.

When all member states of the United Nations were asked to submit the official portrait of their Head of State the diversity was surprising: ranging from snapshots to staged tableaux in generic offices, from full-length portraits in front of stately buildings to close-ups before national emblems. Some portraits invoke the bureaucratic machinery that went into their production, while others seem more indebted to personal whimsy; even the banality of the everyday snapshot occasionally creeps into these staged displays of official power.

Editorial influence is kept to a minimum. The selection of a single image to be reproduced in this volume was always left to the submitting embassies or governmental press offices. Organised alphabetically by state, Official Portraits allows these images to speak for themselves.
If you suspected a single person could embody a nation, the official portraits of world leaders confirm it…a fascinating – and somewhat bizarre – collection of world leaders. The Independent, UK
All photos speak of power, every single one tells a story, about the character of a man, of a country. A small instructive mine. Il Sole – 24 Ore, Italy
As one flips through "Official Portraits", each photo becomes a passport into a country. Newsweek, USA
ISBN: 978-1-904563-33-4
Publication Year: 2004
Binding: Hardback with padded cover
Pages: 208
Format: 155 x 205
Illustrations: 191 colour
Designer: Iconic, London